It's time to Get Vertical with Cab Franc from DuCard Vineyards!
| | |
| --- | --- |
| | |
It's time to Get Vertical (do you know what that means?) with our Cabernet Franc Vertical Tasting! And you can test out your artistic skills (with wine, natch!) or enjoy music by the fire this month as well!
---
Sat. Jan 16th, 2pm: Cabernet Franc Vertical Tasting
!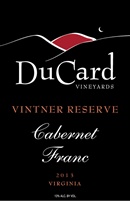 We're dipping into the cellar and tasting every vintage of our Cabernet Franc wines, including the outstanding new 2013 Vintner Reserve (not yet released). We will meet in our new events room, at farm tables looking out on the Shenandoah National Park and taste a flight of these wines, comparing flavors and aromas, how they've aged, and discussing the differences driven by weather conditions, viticulture practices, and winemaking styles. We just might also sneak a tasting of the new 2015 vintage still in production, right from the barrel. Big fun.
The very limited stock of these older vintages will also be available for sale – to add to your own cellar. Advance reservations required. Limited Seating. $35 per person (15% discount for Wine Club members). Make your reservations online here or call 540-923-4206.
---
Sat. Jan. 23rd, 1-3pm: The Art of Wine Class!

Local artist, designer, and educator Marsha Tisch will give you step-by-step instructions to complete your masterpiece all while sipping a complimentary glass of DuCard wine! You will have an afternoon full of artsy fun with friends or meeting new ones. All painting supplies included in cost. ($35/pp; 15% discount for WC members) Limited seating. Reservations can be made online here or call 540-923-4206.

---

Sat. Jan. 30th, 1:30-4:30pm: Music by the Fire with Caroline Cotter!

Come see Caroline Cotter (http://www.carolinecotter.com/) as she makes her way through VA on her way back to Maine. Caroline has traveled to 27 countries and shares her love of music and life experiences through her music. Her national album debut in 2015 reached #5 on the Folk DJ charts. Caroline is currently performing with her friend Wendy Cody and looks forward to her visit with us! No cove

---

DuCard Vineyards

Co-winner: Virginia Green Travel Leader Award

http://www.ducardvineyards.com

---

DuCard Vineyards

Thanks for your interest and support!

40 Gibson Hollow Lane, Etlan, VA 22719

Sun. Feb 14th, 11:30am-2pm: Valentine's Day Brunch!

Valentine's Sunday Brunch.  Enjoy a lovely Valentine's Sunday Brunch catered by Chef Mark Gresge of l'etoile Catering of Charlottesville and featuring the beautiful harp music of Vicky Lee. The beautiful Blue Ridge Mountains serve as your scenic backdrop for this elegant date with your loved one. $59 per person, plus tax and gratuity (Wine Club Members get 15% discount).  Limited seating, and advance reservations are required.  For reservations please sign up here or call 540-923-4206.
---
DuCard Vineyards
Mailing Address:
1885 Kernwood Place
Charlottesville, Virginia 22911
US